For Sale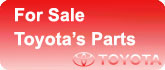 4432035301
For Sale at discount price from China Hilux Parts Supply Corporation,Brand New
4432035301
For Sale with international shipping service,You can find
4432035301
for sale and the best quality toyota parts for sale at this website, we ship 100% genuine toyota auto parts and cheap toyota aftermarket parts all over the world.
Maybe you can not see the real picture of 4432035301 online,How to purchase the Vehicle Part: 4432035301 ?
Answer: Please send an inquiry to contact our sales online or send an email to address info@toyotahiluxparts.com,we will reply you as soon as possible.