Supplier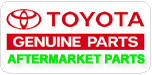 Buy Toyota Spares and import Toyota Spares from China and Japan toyota parts supplier and exporter, shipping to USA Africa South America and other area.
Toyota Parts Co.- Hilux Parts Supply Corporation is one of professional toyota parts supplier in China,we can provide Toyota Spares products to you with international shpping service. Yes ! TOYOTA PARTS !
SUPPLIER:TOYOTA PARTS CO. | EMAIL:TOYOTAPARTS@QQ.COM | TOYOTA PARTS CATALOG ONLINE
How fast to get the quotation ? Dear Customers,please download the "inquiry list " Excel file and send your order via this file to us by email , we will reply you very soon ! Thank you !

Download Inquiry List